What if you could have a spiritual bestie at your side, who could help you decode who you are, how you uniquely manifest income and impact and how you can create aligned success on your terms?
That is what this work is all about!

For the past 10+ years I have worked with hundreds of clients who, with the help of the above framework have been able to:
make an abundant living doing what they ACTUALLY love
find their true voice and become a leader in their field
make a greater impact – where they are seen and known for who they really are
become more magnetic and attractive than ever before (where people love to pay them, seek them out and offer them opportunities) by just being themselves
And finally pursue and create what is on their heart, and have more success than they imagined – doing work that is their truth.
Ready to uplevel your life or career in a magical way…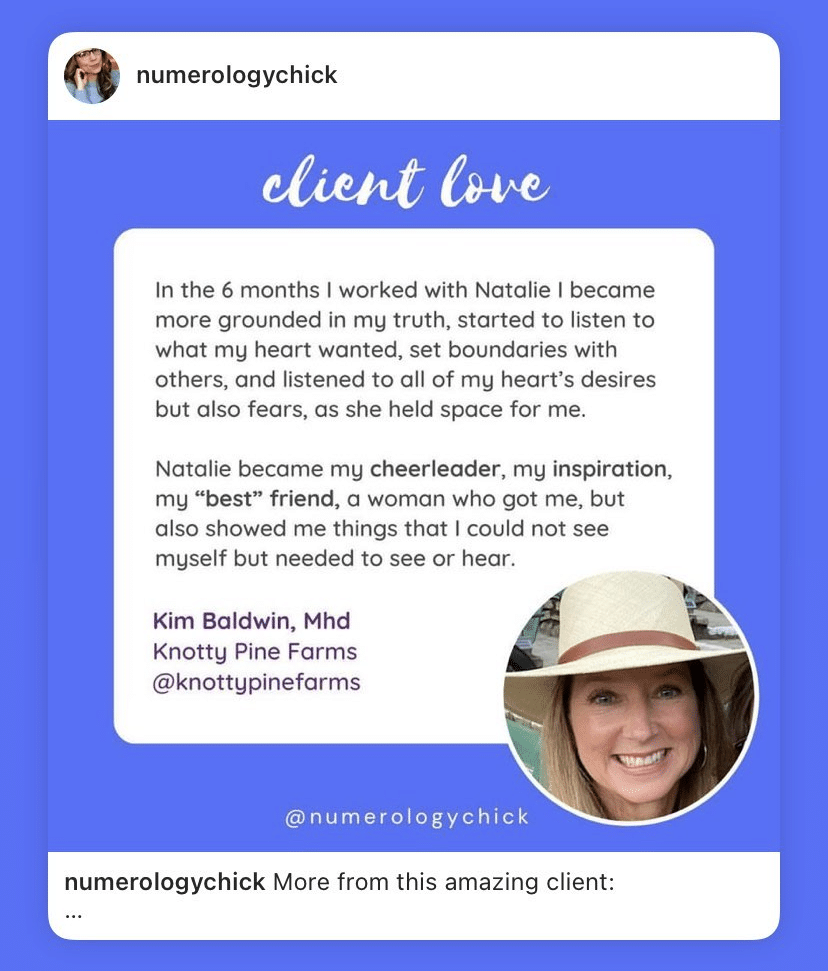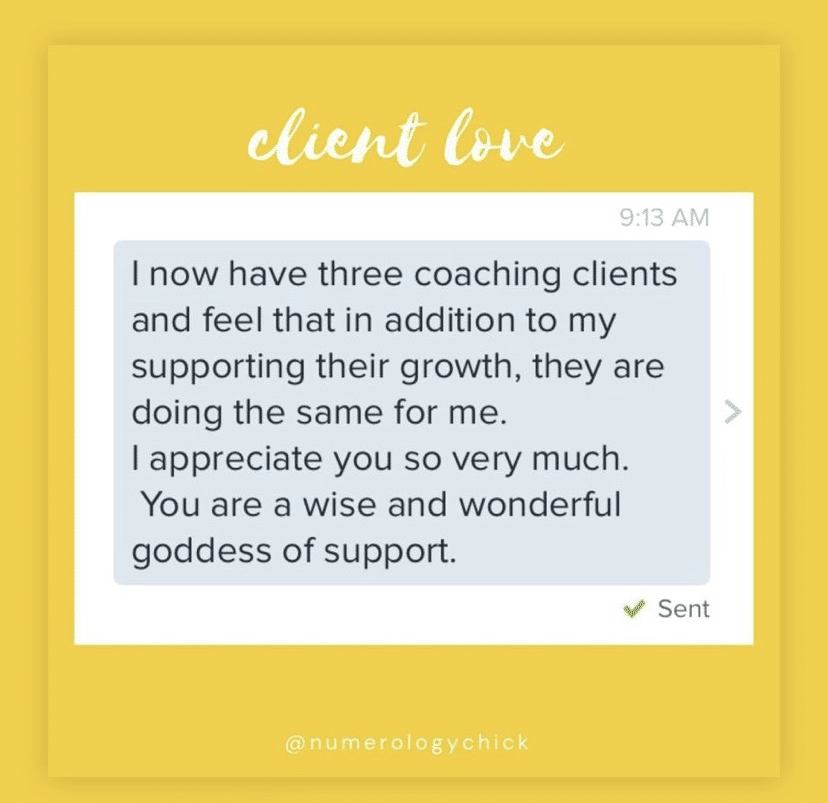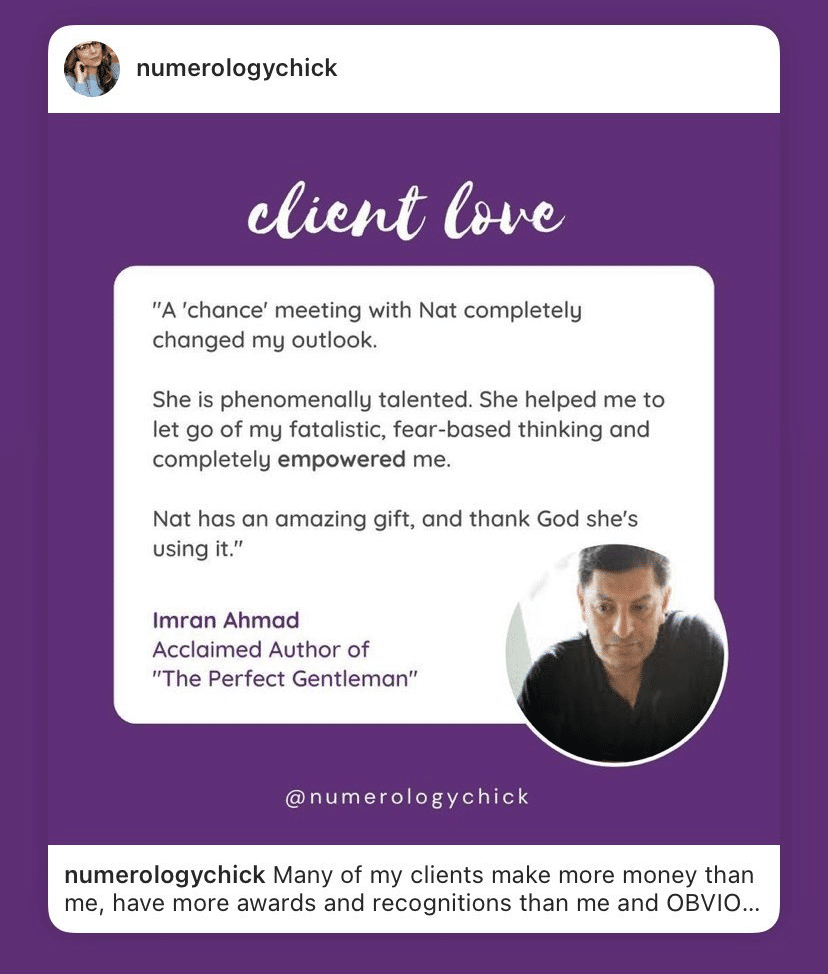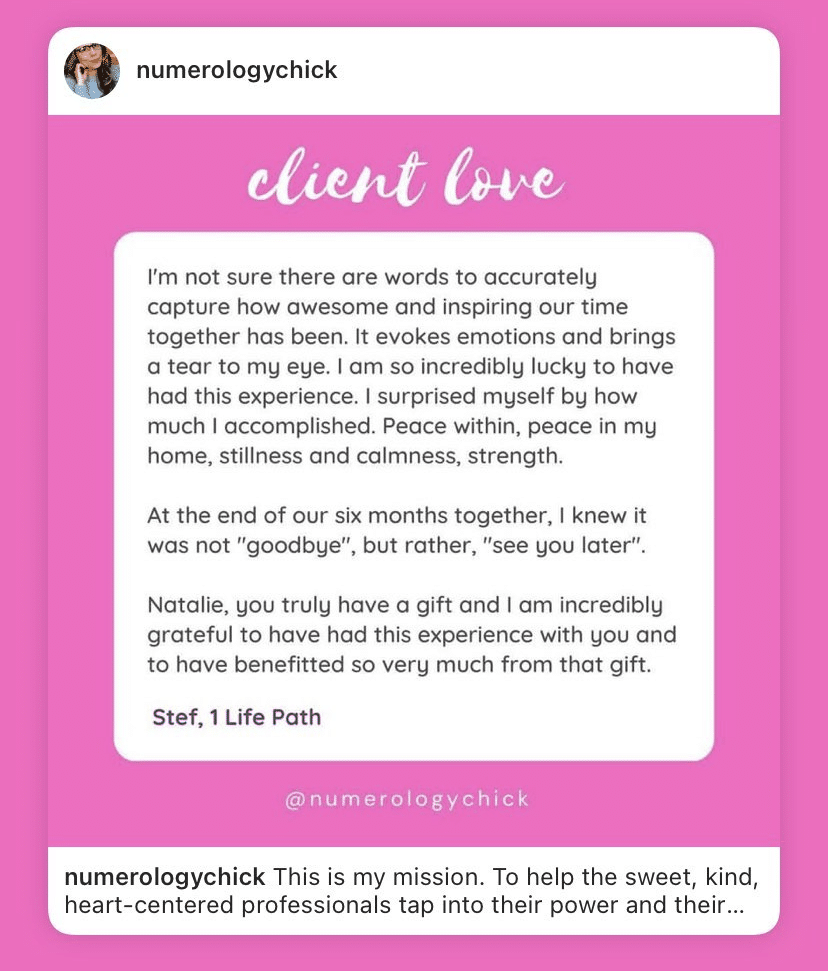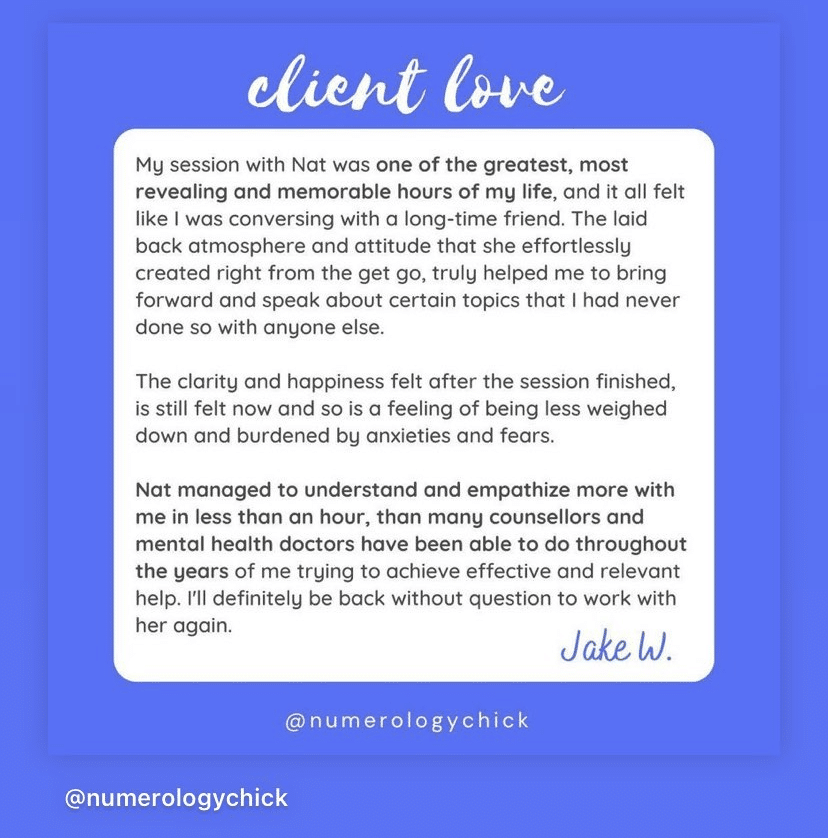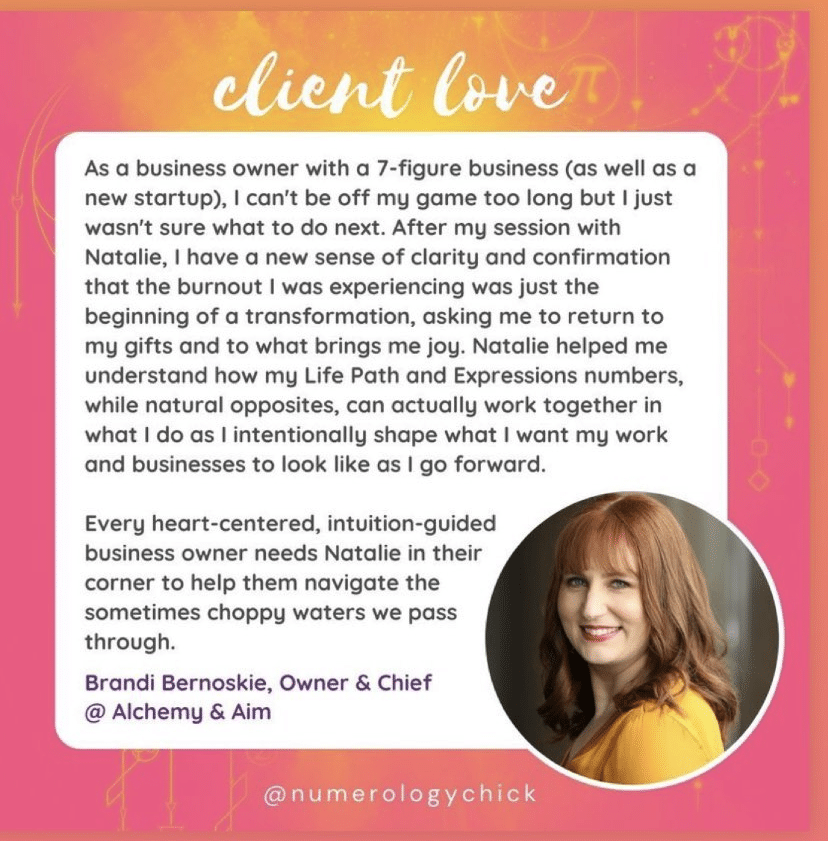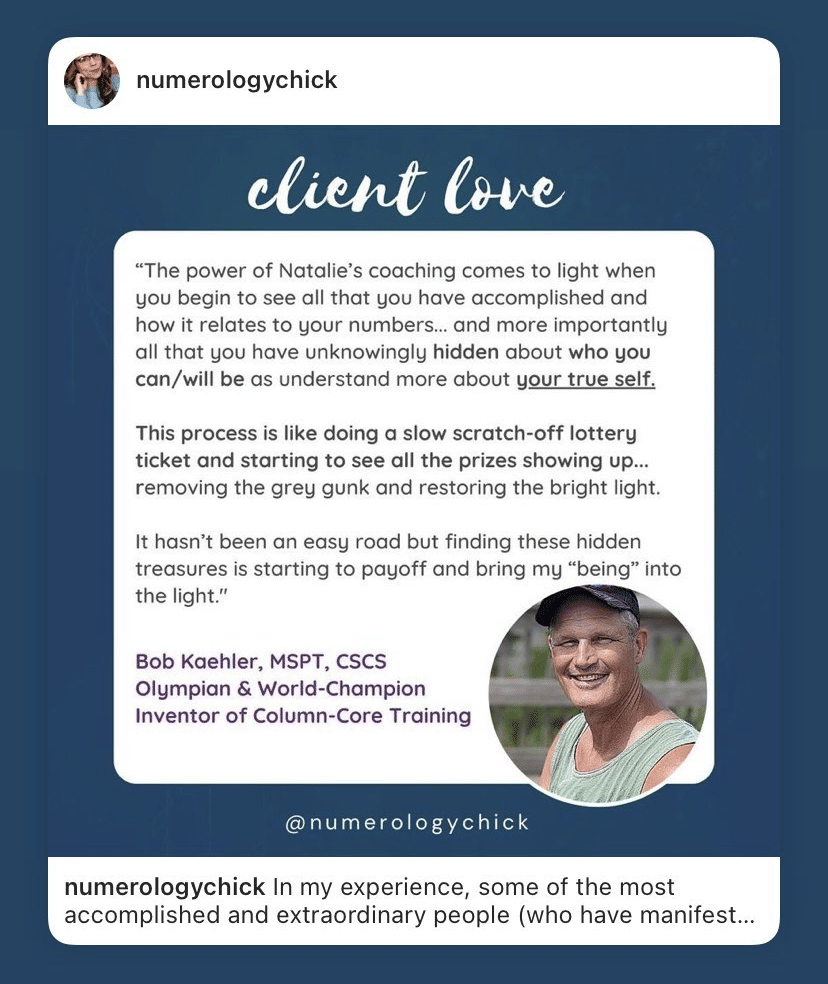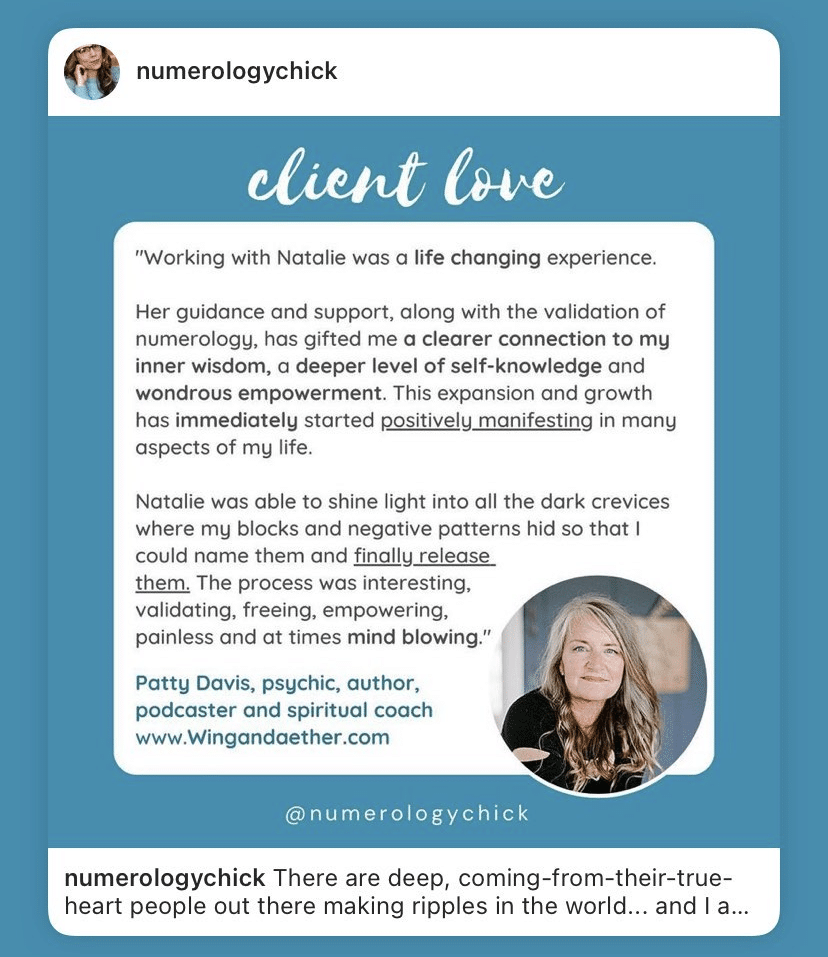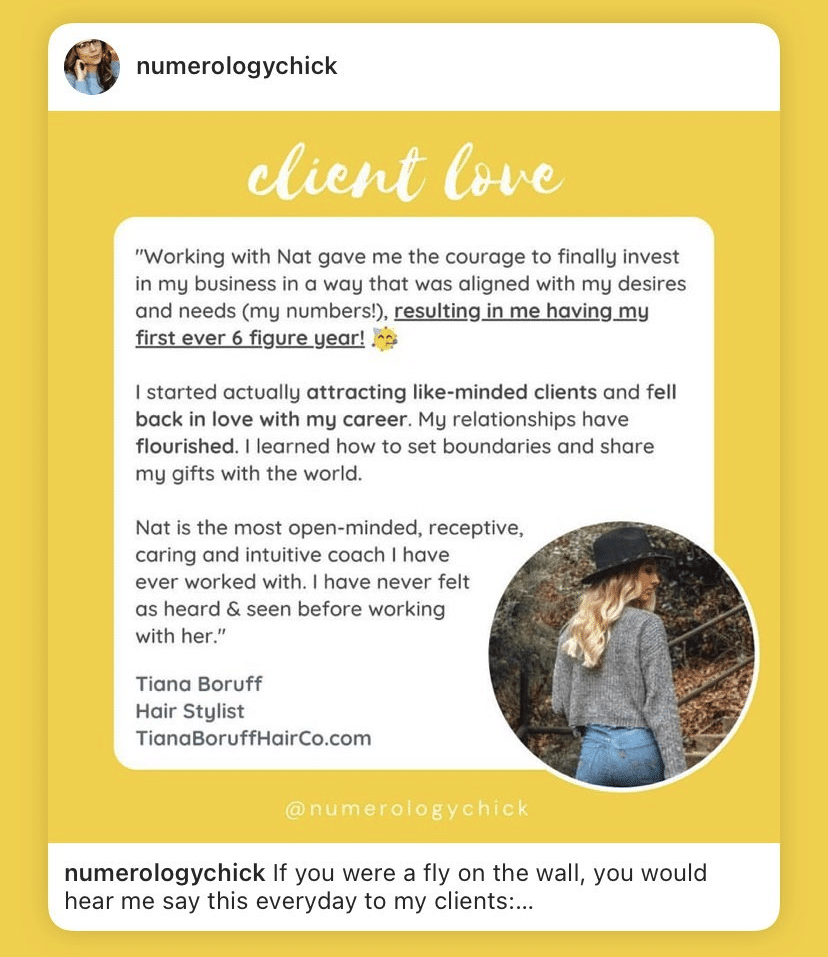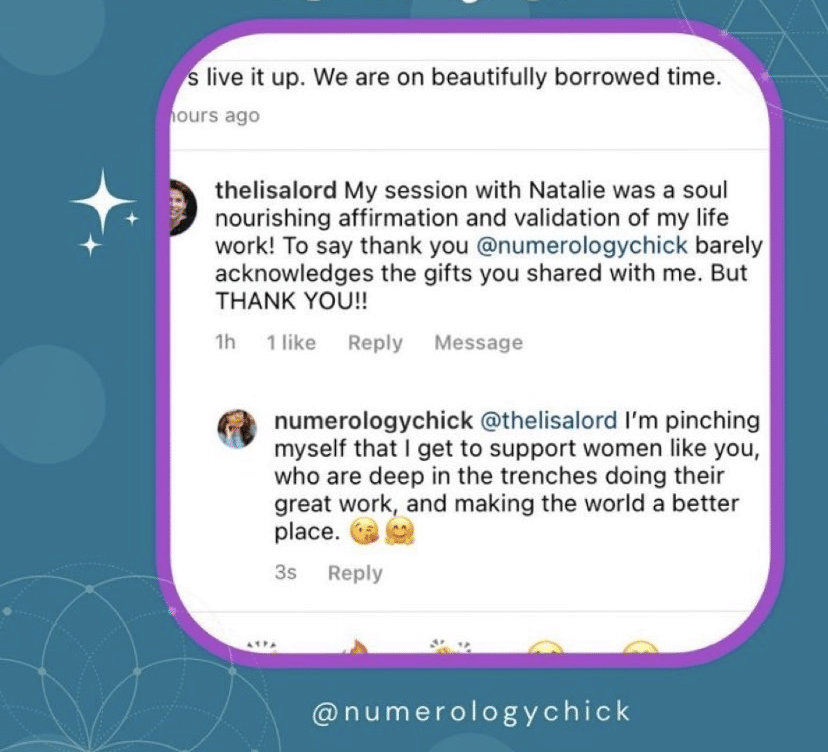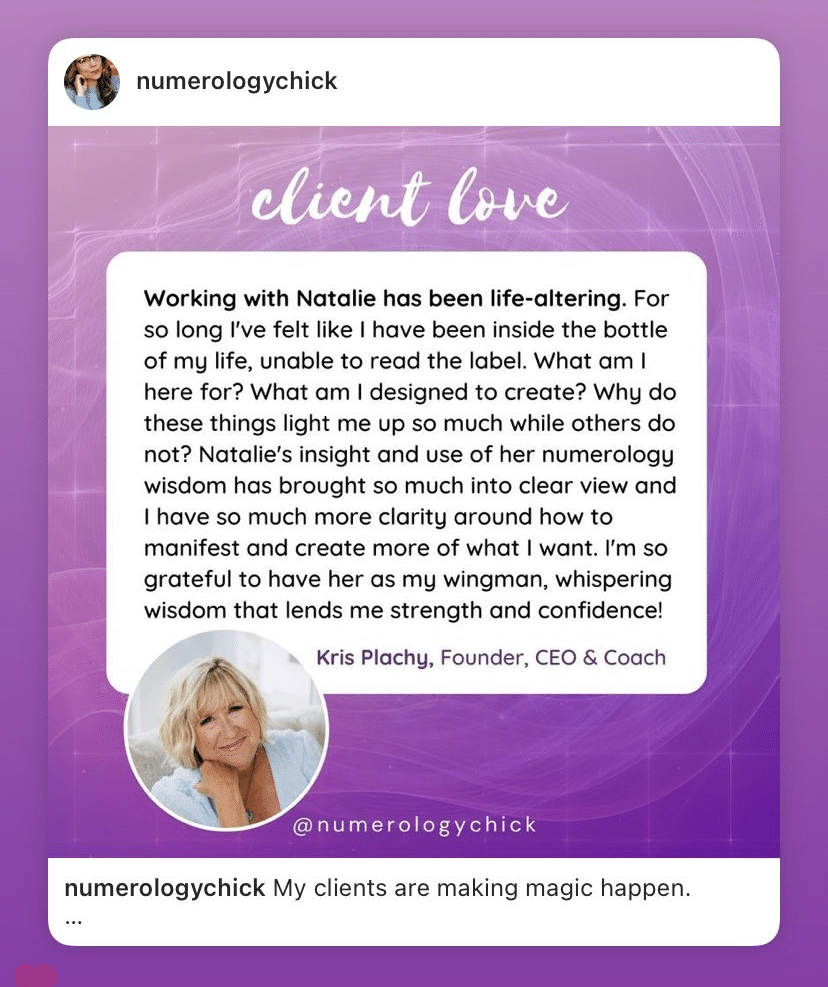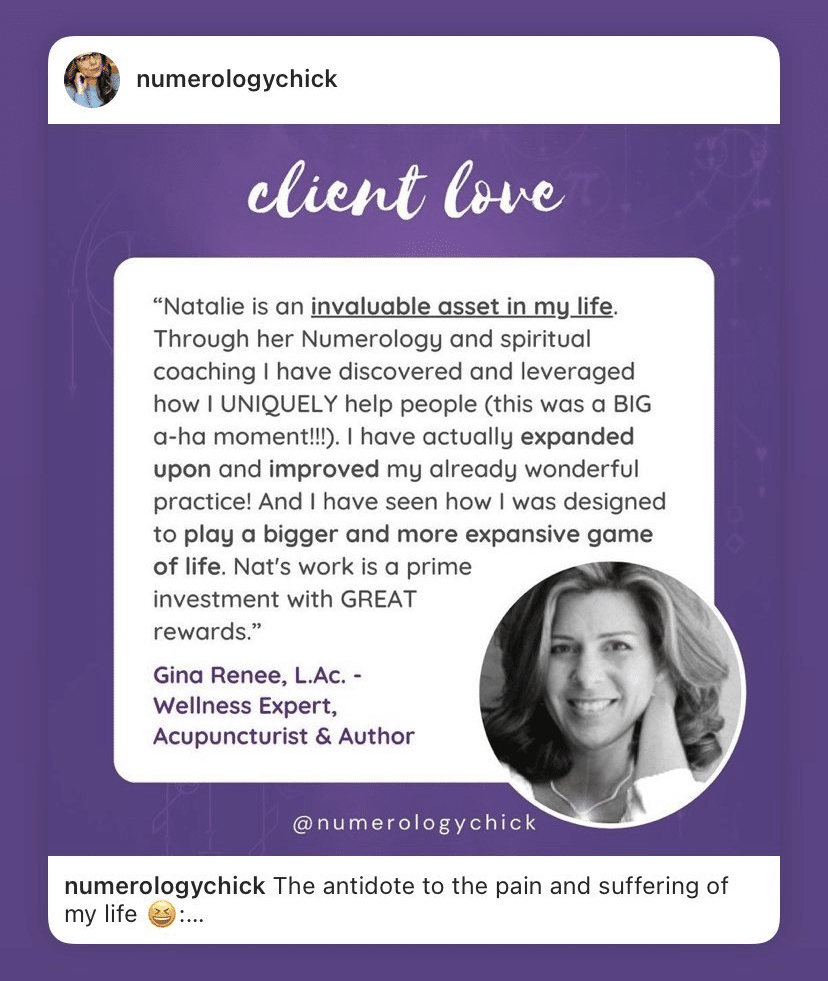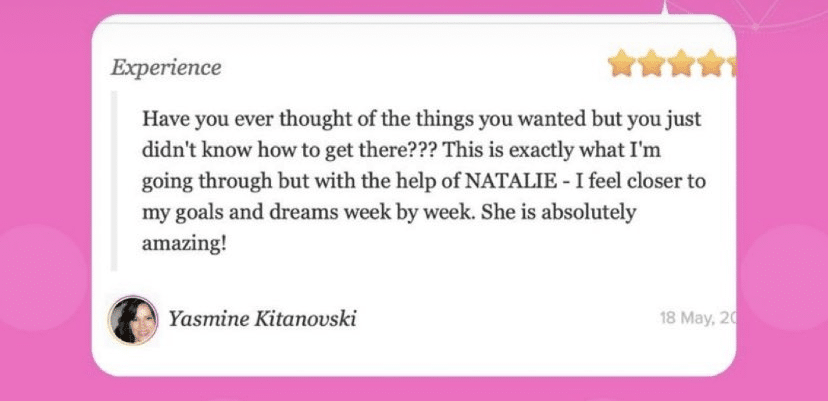 The journey to
transformation.
I am not into one-night stands. My genius is developing deep, powerful relationships with my clients as they move mountains and change their worlds.
The first step…
The Intro Session
All my spiritual coaching packages begin with this powerful call. This way, you can get a feel for this work, your numbers and whether I am the spiritual bestie, coach and confidant you've been needing.
In the intro session, we overcome the challenges you've been experiencing like:
Feeling so off or odd in your career, your industry or your life and not knowing WHY
Being at a ceiling of success and impact
Thinking there's something wrong with you because you feel so unfulfilled (even though you've already manifested things that others would die for!)
Doubting and second-guessing that next-level vision or idea on your heart
And wondering why you are not manifesting the life you want!
We decode the 2 most powerful numbers in your chart, and tap that powerful inner wisdom of yours to help you:
Receive the awareness and clarity that you need to break through that ceiling of success and understand exactly what makes you magical, special and magnetic in your industry and life;
Understand EXACTLY why you've been so unfulfilled and why you have this urge to be more, do more or have more, so you can walk away from our session feeling validated, understood and soothed;
Identify which number in your chart has been neglected, so you can be catapulted forward and share the truth of who you are, and the mission you're meant to fulfill in this world;
Unearth the messages that you already have been receiving, that are key to your next-level; and
Get a taste of me and my vibe before you dive into a deeper, more intensive coaching relationship. (Making sure we are a good fit is incredibly important to me! This intro session will allow both of us to assess whether deeper work together will serve you and your goals.)
While this is an introductory session, it's not surface-level stuff. Some clients have said they've received more clarity on why they are stuck or at a ceiling of success from this intro session than they have from a decade of therapy. Even if you choose not to continue further, this session could give you the clarity you need (and clear the blocks) for your future aligned success.
DETAILS
Length: 50 minutes phone session
Audio recording is available for US clients.
WHAT HAPPENS NEXT?
Click the button where you can schedule and pay for a session. After booking, you will receive an email confirmation of your appointment with a link to questionnaire at the bottom (I must receive your responses 48 hours before your session or you will lose your spot)
International Clients: We will meet over Skype (I'm only doing voice-to-voice at this time)
Ready to unearth next-level
impact and wealth?
Book an intro session below! If you have any questions on this,
feel free to shoot me off an email here.
After your intro call, you qualify to enroll in
VIP one-on-one Coaching
In my coaching intensives, I meet you where you're at and help you awaken your own personal magic, so you can finally receive the spiritual support and clarity you need to:
Make an abundant living being who you really are;
Find your true voice and be a leader in your field;
Make a greater impact and tap into next-level service (where you are seen and well known for what you love and what really matters to you);
Become more magnetic and attractive than ever before (where people love to pay you, seek you out and offer you opportunities because YOUR unique energy is NEEDED); and
Experience aligned success, where you are doing work that is your truth, creating a lifestyle that supports that and being a source of inspiration for yourself, your family and the world.
Depending on where you are at, we may decode and focus on:
Your Life Path Number, if you are unsure of your great work and deeper purpose
Your Expression Number, if you aren't clear on your gifts and feel like you're creating success but it's feeling really hard or it's not your true voice
Your Heart's Desire number, if you are lacking inspiration and fulfillment
Your Personality Number, if you feel unattractive or nonmagnetic in your field
We may also focus on:
Deepening your trust in your own wisdom, your own voice and your own capacity to create
Learning how to co-create and manifest with the zero/God in way that works for you and lights your fire
Overcoming the inevitable blocks, insecurities and doubts that every heart-centered service professional faces as they shine their light brighter
The intensives are for you if:
You want a spiritual bestie at your side who knows what to watch out for and what to avoid on your manifestation journey, so you can move through the blocks, snags and inevitable muggle-moments so much faster
You are so excited to learn about your numbers so that you can gain a deeper understanding about who you are, why you are here and what your gifts are (and how to position yourself for more impact and income)
You love being coached, so you can find your own true-to-you answers. Yes, you are open to wisdom and insight from others, but you want help in trusting yourself and your own inner wisdom.
You are ready to do the work in-between sessions, so that you can co-create that next-level RIGHT NOW.
You are STOKED to learn how to let more magic into your life and become a spiritually-guided professional who no longer lives in the muggle world but creates success in a magical way. 😉
There are two ways we can work together
The Bust-Through-that-Block
One-Month Intensive…
In the 1 month package, we take your inner wisdom and one of your numbers on a test drive, and use them to move through one of the blocks that has been holding you back. We start to awaken your gifts and your power, so you can be seen, known and successful for who you really are.
1 MONTH PACKAGE OVERVIEW
(2) 50 Minute Sessions, meeting every other week
VIP Voxer access to me in-between sessions for MOMENTUM and MAGIC
A great way to assess whether your numbers and this framework works for your bigger dreams
Must have already had the intro session with me to enroll
Ready to have VIP spiritual support, so you can tap into being your true self?
The 6 Month Journey
to Your Next-Level…
In the 6 month package, we will use the create-your-own-magic framework to build a powerful foundation in your life for aligned success and next-level impact, where you know your gifts, trust your inner guidance and feel like a rock-star co-creator with the UNiverse… so you can FINALLY have the professional life you want, where you get to be paid and seen and witnessed for being you (and have a lifestyle that supports you in being your best!)
6 MONTH PACKAGE OVERVIEW
A total of (12) 50-minute phone sessions, where we talk twice a month
VIP Voxer access to me in-between sessions for MOMENTUM and MAGIC
New homework assignments every month to push the envelope and uplevel
And you will have my in-demand schedule blocked out for you and this new desire or dream that is on your heart
Ready to fully commit to and create next-level service and aligned success?
Book Now – 6 Monthly Payments of $1250
LIMITED SPOTS! Because of the intense nature of this package, I take on a limited number of clients at a time.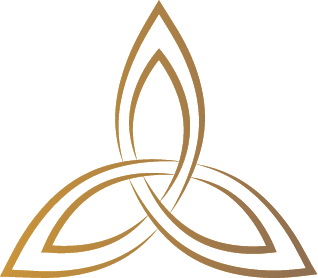 New clients: Book an intro session below to qualify for these packages.
Ready to unearth next-level
impact and wealth?
New clients: book an intro session below! If you have any questions on this,
feel free to shoot me off an email here.